TEXARKANA, Texas (Ark-La-Tex Weekend) - Put on your creative hats and imagine what Texarkana, Texas could be!
The Department of Community Development in Texarkana, Texas has announced its Design Downtown Regional Art Contest that is to be held this fall in Downtown, Texarkana.
Residents of Miller, Bowie, and Cass Communities will be able to submit art renderings of a downtown, Texarkana building, public space, or stretch of property in the Arts & Historical District.
The contest is free to enter into and ranges from ages of 1st grade to seniors 55+. Planning and Project Management Coordinator Matt Solomon encourages the community, young and old, to join in the reimagining of downtown.
"Texarkana has a rich and well-documented history", said Solomon. "Over the last several years the Community Development team has planned and executed various projects around the city with the focus of honoring the past and growing the future, and this contest will allow the voices in our community to be heard through art and creativity."
Winners will receive local recognition, have their submissions displayed in various locations downtown, and prints will be made for the Sesquicentennial Time Capsule, which will be buried on Dec. 8, 2023.
First, Second, and Third place grand prizes will be presented to winners in each division.
The contest will run from Sept. 1 until Nov. 3.
Regional local artisans will judge each entry and divisional winners will be announced Dec. 1.
Submissions can be dropped off at the Texas City Hall front desk, at 220 Texas Boulevard, during normal business hours.
Display of the winning submissions will begin Nov. 6. The designs that win will also be used to guide downtown revitalization efforts.
For more information on contest rules, guidelines, and previous sketches of downtown for inspiration, please visit their website at https://texarkanatexas.gov/864/Design-Downtown-Regional-Art-Contest.
For contest updates and reminders, please follow their Facebook Event Page at https://fb.me/e/4F2rGLHYB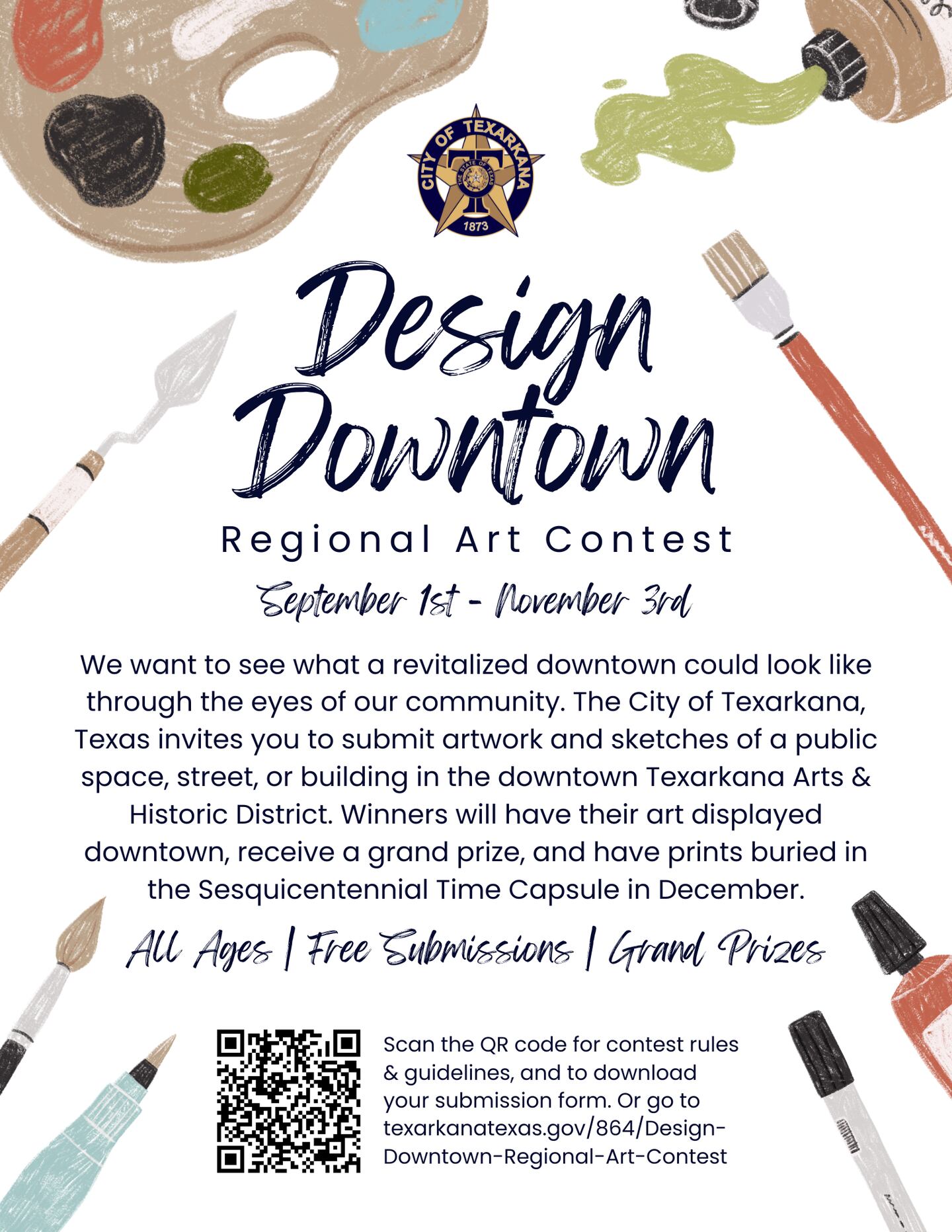 ---
Copyright 2023 KSLA. All rights reserved.